The x265 development team is excited to announce the availability of the x265 HEVC Upgrade!  Now anyone with a 64 bit Windows PC can easily take advantage of the next generation video compression standard, HEVC.
The x265 HEVC Upgrade makes it easy to convert MP4 video files to HEVC, and play back these files with Windows Media Player!
HEVC is capable of compressing video files up to twice as efficiently than the current video compression standard (H.264).  That's not a typo!  At typical bit rates, the new HEVC video compression standard is twice as powerful as the old AVC video standard!  You can take the benefits of 2x higher compression efficiency in one of two ways (or some combination of both)…
Save your videos with much higher quality at any chosen bit rate.  To demonstrate the difference, we encoded Tears of Steel (a popular movie from the Blender Foundation) with the leading H.264 encoder (x264), and with x265 at the same bit rate.  A representative screen capture (scaled down to 50%) is shown below.  Click the image to see a full resolution version of this comparison.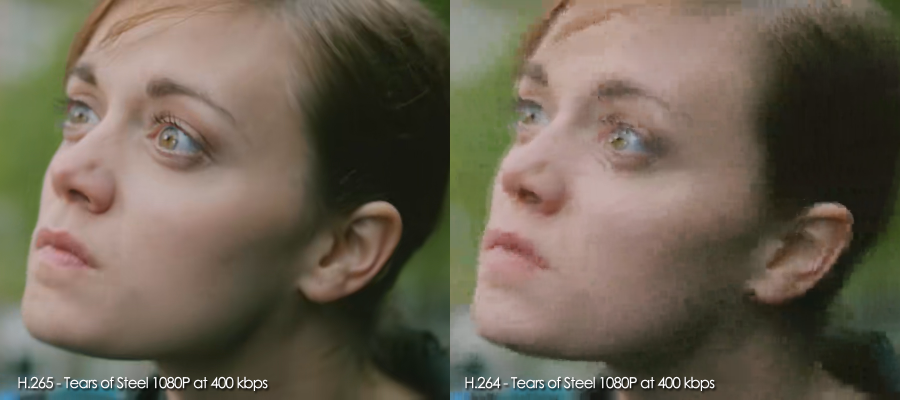 With twice the compression efficiency, you can save your video files with identical quality in only half the storage space.  The x265 Encoder lets you store twice as much video on any hard drive or cloud file sharing service, uploading and sharing video twice as fast.
Play HEVC video files


The x265 HEVC Upgrade also includes UHDcode, the fastest, most reliable HEVC software decoder in the world.  Enjoy higher quality video and/or smaller video files.  The UHDcode DirectShow Filter installs on any 64 bit Windows PC, letting you play MP4 files with HEVC video using Windows Media Player, 64 bit.